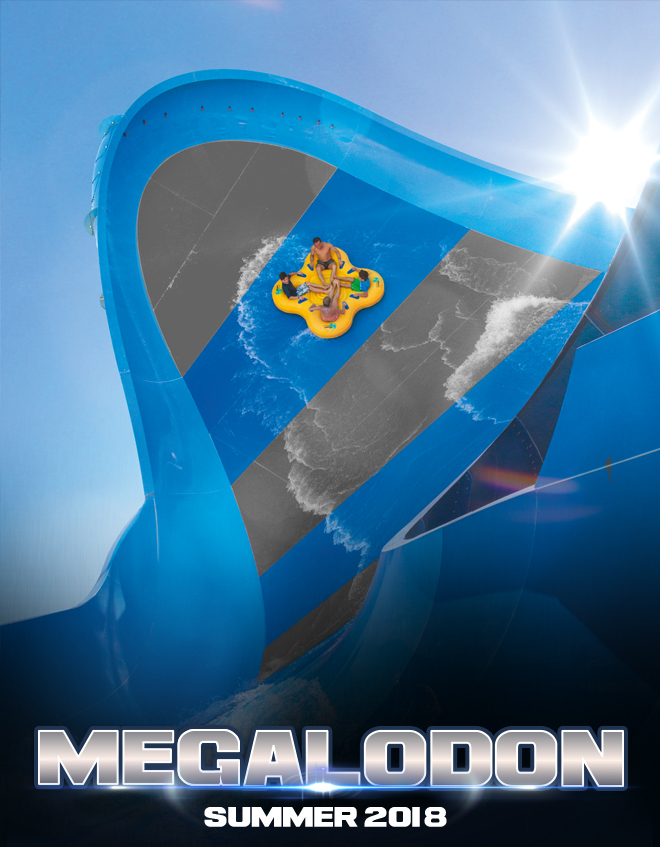 SplashDown Beach, America's Biggest Little Water Park, just got bigger. We are proud to announce the addition of our newest thrill ride, the Megalodon. "After extensive research, we are incorporating the latest in thrill ride technology to bring one of the fiercest prehistoric predators under the sea back to life," said Steve Turk, Owner. "I personally rode this 10 times and am convinced the 'MEG' is the perfect addition to our collection of larger thrill rides." This six-story attraction rushes riders on a four passenger raft through a dark tunnel dropping them unsuspectingly down a vertical freefall through thousands of gallons of oceanic surge.
"Under the direction of the Turk Family, SplashDown Beach continues to grow; we plan to break ground in the spring of 2018 on the single BIGGEST attraction this water park has ever seen. The MEG is the only ride of its kind in the North East," said Andrew Chafatelli, Chief Operating Officer.
Located in Fishkill, New York, just 60 minutes north of New York City, the park has been family owned and operated since 2004, with the Turk family investing more than 25 Million in expansion and capital improvements. SplashDown Beach was named a TripAdvisor Travelers' Choice Winner as one of the Top 25 Water Parks in the United States, offering a clean environment for water fun and adventure that the whole family can enjoy. There is something for everyone, from thrill seekers to toddlers, and boasts the best food in the water park business. The park is open seasonally from Memorial Day to Labor Day, and currently our Season Passes are on sale for only $89.00 each. Prices will go up as we get closer to the start of summer – get your passes today and get ready to ride the Meg!